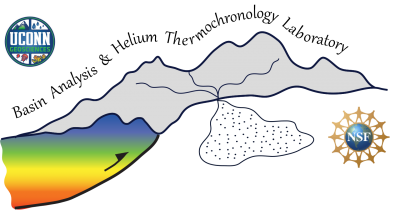 The Basin Analysis & Helium Thermochronology Laboratory (BAHTL) houses analytical instrumentation and sample preparation facilities to support research in (U-Th)/He thermochronology.
The (U-Th)/He method is based on the extraction and measurement of naturally occurring Helium isotopes that are produced in minerals during the radioactive decay of Uranium and Thorium. This method quantifies low-temperature mineral cooling (~40 to 200 °C) to better understand timing and rates of tectonic deformation and exhumation, landscape evolution, magmatism, hydrothermal processes, and more.
Since 2018, the BAHTL has been supported through the National Science Foundation EAR/IF Laboratory Technician Support program (Award 1735492) to provide optimal operation of advanced instrumentation, analytical protocol development, and user training for Earth sciences research. The BAHTL welcomes researchers and their students with research interests in (U-Th)/He thermochronology. Contact Prof. Julie Fosdick (julie.fosdick@uconn.edu) and Dr. Adam Goldsmith (adam.goldsmith@uconn.edu) to learn more and to arrange a visit.
Lab Personnel
Prof. Julie Fosdick, Director (Assistant Professor, Geography, Center for Integrative Geosciences)

Dr. Adam Goldsmith, Laboratory Manager (Research Assistant III, Center for Integrative Geosciences)
Graduate and undergraduate student research assistants (Center for Integrative Geosciences)
Services
Analytical services are based on whether or not the service is performed by the visiting researcher or by BAHTL staff. Currently, our facility accommodates (U-Th)/He analysis of apatite and zircon, with analysis of additional mineral types available to external users in the near future.
We invite students and researchers to arrange a visit to perform their own sample preparation and helium isotope measurements. BAHTL personnel provide training to faculty, postdocs, and student researchers on how to prepare samples and operate equipment to collect analytical data. Alternatively, we prepare samples and operate the equipment on behalf of the researcher.
Contact julie.fosdick@uconn.edu to discuss your project, request more information on analytical rates, and arrange a visit.
Facilities and Instrumentation
Our facility includes sample preparation and imaging facilities, a dedicated helium gas extraction and measurement line, a mineral dissolution lab, and a Thermo Scientific iCAP ICPMS. Equipment highlights include:
The integrated Santa Cruz Laser Microfurnace helium gas extraction and measurement system is equipped with a Pfeiffer PrismaPlus quadrupole mass spectrometer, laser diode and vision system, Advanced Research Systems cryogenic trap and chiller, and a dual planchette cell and six-port multi-sample diffusion cell. High vacuum (<108 torr) of the stainless steel extraction line and mass spectrometer is maintained by a various pumps and a series of pneumatically controlled valves and gauges.
Crystal preparation and imaging facilities includes a Leica 165C high resolution stereomicroscope with a 360° rotating polarized stage, polarized analyzer, transmitted and reflected light sources, bright- and dark-field capabilities, and an ergonomic trinocular tube. Crystal morphometrics of selected samples are collected using a Leica MC170 HD Camera and LAS Interactive Measurement software. The lab provides sample preparation supplies including glass petri dishes and slides, tweezers, niobium foil tubes, and crystal preparation supplies.
BAHTL recently acquired a new Thermo iCAP quadrupole ICPMS for U, Th, and Sm parent isotope measurements. The iCAP features a compact benchtop design for efficient operation and modest maintenance. For routine analysis of dilute acid solutions, the iCAP includes an acid resistant PFA cyclonic spray chamber, a sapphire injector, platinum tipped cones, and a high sensitivity skimmer insert. Supporting facilities for the iCAP include a dedicated chiller, a power conditioner, and Dell PC desktop computer for Qtegra software interface and control. Lab space renovations for the iCAP are underway with proposed completion in Summer 2019.